WW2 Burma Campaign RAF Veteran 
Gives Simulator Thumbs-up
World War 2 experience in Burma with the Royal Air Force gave Frank Bromley, accompanied by his daughter Gillian and son-in-law, David, renewed their respect for those few with the skills who took to the skies. He, being a highly qualified engineer, kept the planes serviceable and aloft.
RAF ground crew prepare a Spitfire top take-off during Burma campaign.
As a surprise present from Gillian, Frank and David donned the gear of a WW2 fighter pilot, received the flight plan then jumped behind the controls of the Mk5 Spitfire simulator … then, up and away.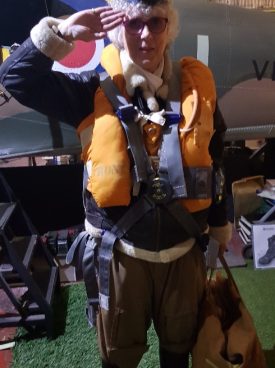 Gillian's comment after a bumpy landing …" Gosh I feel really wobbly, wobbly" … hum !
Her husband, an Army veteran, commented after his flight
"Hells bells, those controls were really sensitive, I think I'll stick to jumping out of planes instead".