Radio Ham Tunes in to New Skills
Birmingham based Martin Springwood, an RAF veteran, and his father John, a spritely eighty years old radio ham, changed his radio mic for WW2 fighter pilots flying gear. After strapping in, Martin took control, starting the Merlin engine, adjusted the throttle setting and was away heading low level towards the mountains of the Lake District.
Martin said of his visit:
An awesome night with Andrew Harper and a great time looking around the museum … memorabilia was top notch. The simulator flight for my Dad was brilliant … a real must do dressed in WW2 dress … Blackpool's hidden gem.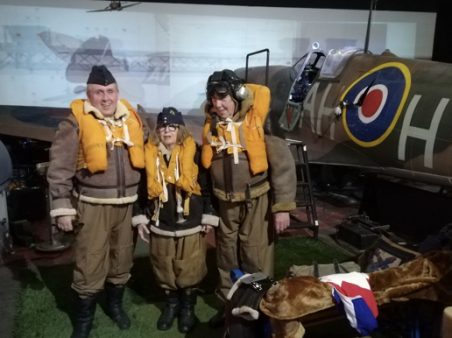 The family Springwood all dressed and raring to go!
Following an hour of turns and hard banking, Martin returned setting the Spitfire down on the run way. Beaming from the cockpit he said, "That was fabulous, after getting used to the controls, I felt as though I was flying, and not just in a box".
His son having booked the session as a present for his father, was so taken and animated by the experience, has vowed to come back himself to try his hands at the controls.
Get the experience of a lifetime.
Climb into the cockpit of our full size custom built replica of a Spitfire MKV with original instruments and interior. The aircraft is mounted in front of a panoramic projection screen to give you a full sense of immersion in the simulator.