Covid 19 Safe, Spitfire Simulator Made Ready for Opening
Being in a state of darkness not allowed to venture out, and fun days put on hold may be at an end for us. We are pleased we have friends in many places, so was delighted to see Hygea Blu come up from the South to use their electro static 3D wrap around spray system to decontaminate our Mk V Spitfire simulator and the key public areas in the Hangar.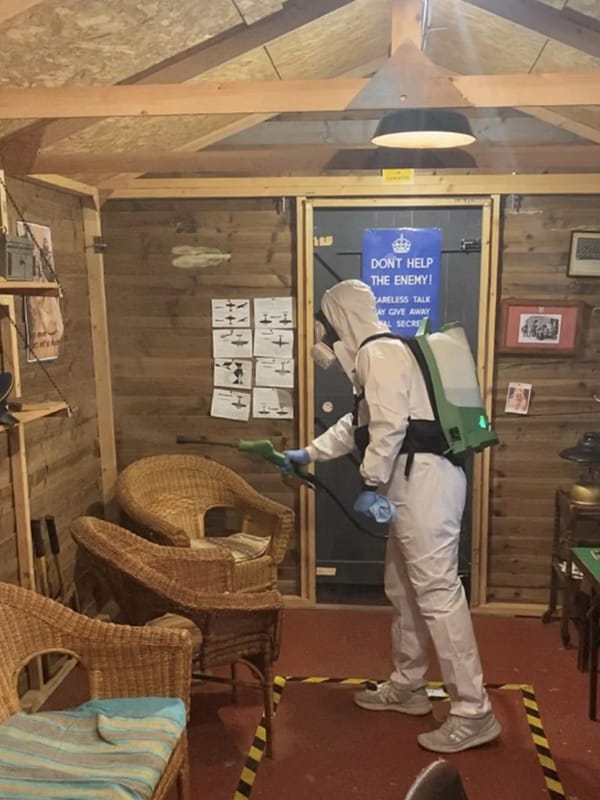 Chris sanitising the air crew rest room
Finally the main attraction … now Covid 19 safe
Using a very high level disinfectant, with a 99.999% kill rate on Covid 19, and other toxic pathogens, was incredibly reassuring.

Even better, the job was done in minutes and the simulator returned to us for use being Covid 19 safe shortly after. Yes, even the cockpit interior and sensitive flight instruments were sprayed, without any issue.
We were planning on one visitor every 3 days.
However, with the disinfectant Hygea Blu used, which remains active for a full month, means we can have visitors as normal. All we will do is wipe over the touch points in the cockpit to ensure they are ultra-safe. The disinfectant remains active killing Covid 19 for four weeks ! Thank you Hygea Blu.
Having done the job, Chris had an opportunity to fly the simulator and said he was stunned on how good and sensitive the controls were.
Chris donned in flying gear preparing for his flight
He thoroughly enjoyed the low flying sortie over lake District and even managed to land without damaging the aircraft … something few have achieved to-date. Likewise, he was amazed at the virtual reality experience of flying on a WW2 bombing raid over Germany and in awe being part of the crew of the first Apollo moon landing.

For those interested, the guys from Hygea Blu (who are really helpful and constructive) say they can also do nail bars, hair saloons, cabin areas of truck, buses and taxis as well as the likes of pubs, clubs, pubs, restaurants, train carriages, offices and dental clinics. Simply put, if people use they can decontaminate it.

As a polite reminder to those wishing to visit us, we hope you will bring your own face mask (3 ply), we do have latex gloves and hand sanitiser for you when you sign in at reception though.
Get the experience of a lifetime.
Climb into the cockpit of our full size custom built replica of a Spitfire MKV with original instruments and interior. The aircraft is mounted in front of a panoramic projection screen to give you a full sense of immersion in the simulator.