Conrad and his wife visited Raven Cockpits under an impression the simulator would be like others, a box smartly painted as a Spitfire. Not a full sized replica with fully functioning controls and instruments inside or wearing fighter pilot flying gear.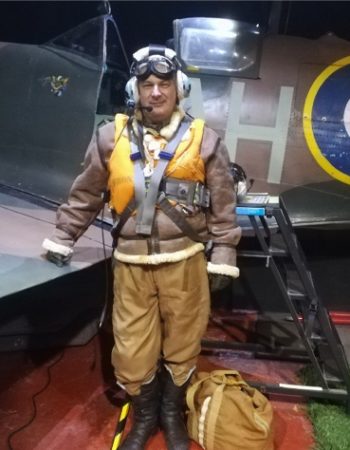 Conrad experienced the hair raising delights of low level flying in the mountains of the lake District and even flew over the USS Nimitz aircraft carrier.
When commenting on his experience in the simulator, Conrad said:
Landing was much more difficult due to having to look over the fuel tank and engine. Very different from flying a simulator on the computer, as you can see where your flying. You really feel the engine vibration through the seat when adjusting the controls
I really wanted to say a big thank you for not only the brilliant flight simulator experience (despite the hair raising landing) but also for spending so much time chatting to us and showing us around.  Thoroughly enjoyed the whole experience and looking forward to coming again as soon as I can find an excuse to come up to Blackpool again.
Get the experience of a lifetime.
Climb into the cockpit of our full size custom built replica of a Spitfire MKV with original instruments and interior. The aircraft is mounted in front of a panoramic projection screen to give you a full sense of immersion in the simulator.