Visitors From Gurnsey Left In Awe
Amy and Paul from Guernsey made a special trip to stop by at Hangar 42 to experience Raven Cockpit's life sized Spitfire simulator. Yes they had a great time but were also good company and fun to be with. The smiles say it all.
Playing the waiting game before being scrambled
Amy took control and flew the Spitfire seamlessly showing she had a light but precise touch on the controls, skills essential for a good WW2 fighter pilot.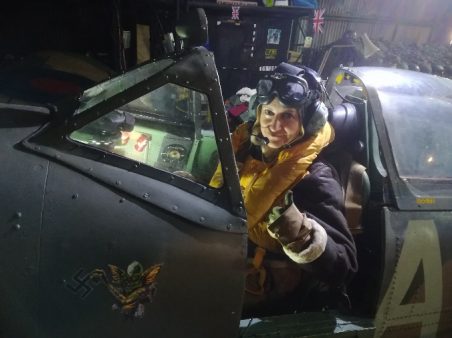 Amy gives thumbs up, ready to throttle up
On completing her mission she said,
This was truly awesome and incredible. I really had to concentrate hard on keeping the plane at the right hight.  I can't wait to have another go !
Get the experience of a lifetime.
Climb into the cockpit of our full size custom built replica of a Spitfire MKV with original instruments and interior. The aircraft is mounted in front of a panoramic projection screen to give you a full sense of immersion in the simulator.