So Much Better Than I Expected
Billed as a surprise, turned out to be so much more for …… A flight simulator experience with a real difference. The first comment on seeing the Spitfire was, "Blimey, its huge and full size, I was expecting a box to sit in". On completion of an hours flight said, "It was brilliant, so much more than I expected".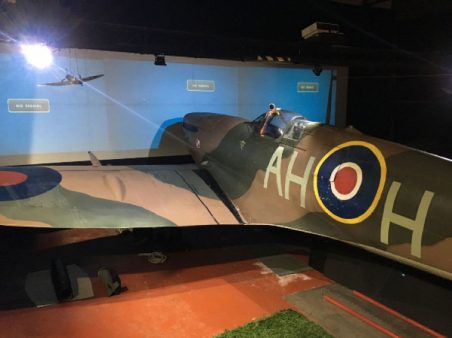 View of the Spitfire Mk V and the movie screen sized flying 
environment.
In the crew room, waiting to scramble. Trophies of
 German WW2 aircraft in the background.
All dressed and planning where to go. Simulator instructor, Andrew Harper, gives a pre flight brief to pilots so they know the terrain they will be flying over. It's the real deal.
All dressed up but not time to go.
Get the experience of a lifetime.
Climb into the cockpit of our full size custom built replica of a Spitfire MKV with original instruments and interior. The aircraft is mounted in front of a panoramic projection screen to give you a full sense of immersion in the simulator.