Taking A Break Before Looking For Ghosts
Hangar 42 and Blackpool Airport, not only houses a great collection of life sized WW2 fighters, but also hosted the Sky series, "Most Haunted" .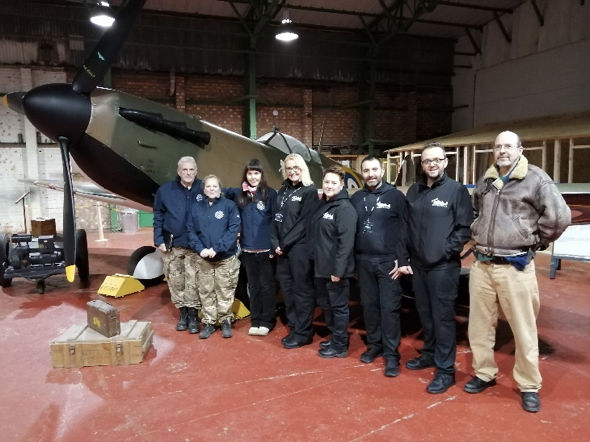 Visitors and the home team
The hangar now has a well established reputation as being a place to observe and film things that go bump in the night.

Some have seen a lone figure dressed in blue (a war time pilot of yester-year ?) to observing by low light cameras fast moving lights.
Before the film crew took control, the visitors decided it would be a great idea to get with the WW2 theme and dress the part.
Thumbs up, all smiling, but things could change!
Get the experience of a lifetime.
Climb into the cockpit of our full size custom built replica of a Spitfire MKV with original instruments and interior. The aircraft is mounted in front of a panoramic projection screen to give you a full sense of immersion in the simulator.